Make life easier with the Bosch Serie 2 SPV25CX00G Dishwasher. This fully integrated 45cm dishwasher comes in a slimline design. Perfect for narrow kitchens. Offering room for 9 place settings, plus a height adjustable top basket for even more room, cleaning up after an evening meal is simple and hassle free. Allowing you to get on with your evening.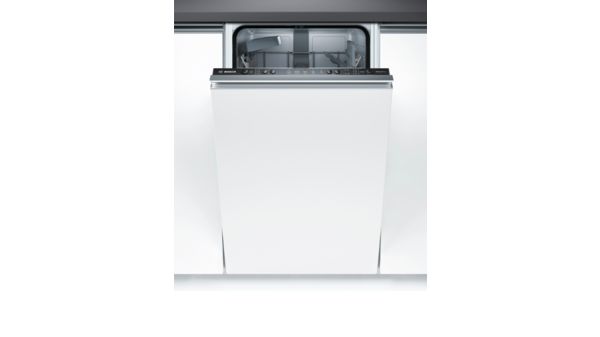 Intelligent Water Management
With the SPV25CX00G Dishwasher, not a drop of water will be wasted. Making a great impression on your utility bills. You'll only ever use as much water as needed to get your glassware and dishes sparkling clean.
Smart ActiveWater technology manages the rinsing process, using minimal water and energy to get perfect results. While the AquaSensor function monitors and regulates each cycle's water usage based on the type of dirt covering your plates and how stuck on it is. It uses light beam technology to assess the degree of dirt and adjusts the water usage to meet the need.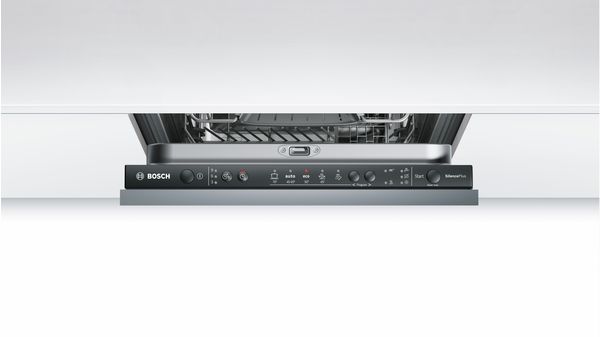 Expert Cleaning Power
Using less water doesn't mean a lesser clean. On the contrary, the machine's mighty DuoPower spray arm on the upper basket delivers even better cleaning, thanks to targeted water circulation. So, your dishes will come out cleaner than ever before.
And thanks to DosageAssist, everything will get a truly thorough clean, with the machine's handy basket ensuring the tablet is fully dissolved throughout the wash.
Not only that, but with fast washing programs, you can get clean dishes in as little as 29 minutes. Perfect for those last minute dinner guests.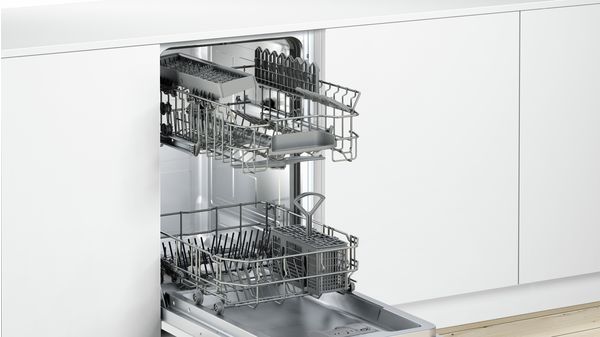 Reliable Glass Protection
Don't you hate having cloudy, scratched looking glassware?
That's down to soft water corrosion in your dishwasher, leaving your glasses looking misted and less than sparkling.
Fortunately, the experts at Bosch have developed special glass protection technology, regulating the water hardness to leave glasses gleaming. Goodbye cloudy glasses. Hello sparkle.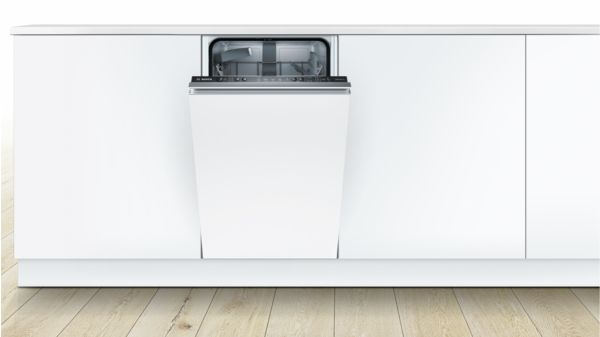 Energy Efficient Performance
This A+ rated dishwasher comes with an economy wash program, using less water and energy and saving you money on your bills. Its LoadSensor technology detects the weight and water level of each wash, using less water and electricity to get the same great cleaning results.
And with automatic programs that automatically regulate the temperature and rinse time, you can get the most energy efficient wash settings at the touch of a button.
Featuring the trademark Bosch EcoSilence Drive™, the SPV25CX00G offers frictionless, energy efficient performance. Saving you energy and money. Plus, with EcoSilence, the SPV25CX00G is also super quiet. So you and your family won't be disrupted as it runs. Thanks to SilencePlus, you'll hardly notice it.
Like any Bosch appliance, the SPV25CX00G is made to last. Featuring AquaStop, the SPV25CX00G has a lifetime warranty for protection against water damage. So, you can trust Bosch to deliver high performance cleaning for many years.
Order the Bosch SPV25CX00G Dishwasher today from F&K Electrical & Refrigeration Ltd in store, online or by phone. We offer fast delivery throughout Cornwall. Not to mention our excellent customer service. To find out more about this appliance, visit our product page or call today.